Naturist Area
Nudist beach in Tazacorte
Up until recently there was only a small beach called "Las Monjas" (the nuns beach :-) ) on La Palma, where it was allowed to be naked. But after being flooded and borne away in several winters there was no more official area to swim naked. Perhaps this was a reason that some nudists were kept away of the island La Palma. This circumstance needed to be changed.
Also the predominantly catholic population was not very excited about that there were people swimming naked. Therefor it was time for a new nudist beach where it is possible to be naked.
The government of La Palma agreed to a new area of the palmerian coast where it is now possible to be naked. Which is the beach of Tazacorte / Los Tarajales.
This time the beach is central in Tazacorte, next to the port and not affected by falling rocks. For friends of the nudist culture this is a real pleasure. As well for the spanish locals this is of course a good solution.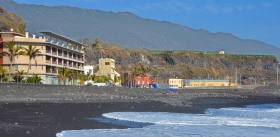 As in spain the nudism has not so many followers as in the north of europe it took some time that there came a solution for the borne away beach Las Monjas. Finally everybody seems to be happy with this solution and the nudists have now a beautiful beach near restaurants and shops.